Employment Rehabilitation
Over a third of a person's life is devoted to work. Studies show that finding and maintaining stable work is especially important for disabled people, because it helps them integrate into society, furthers their independence, increases their self-worth, and improves their quality of life.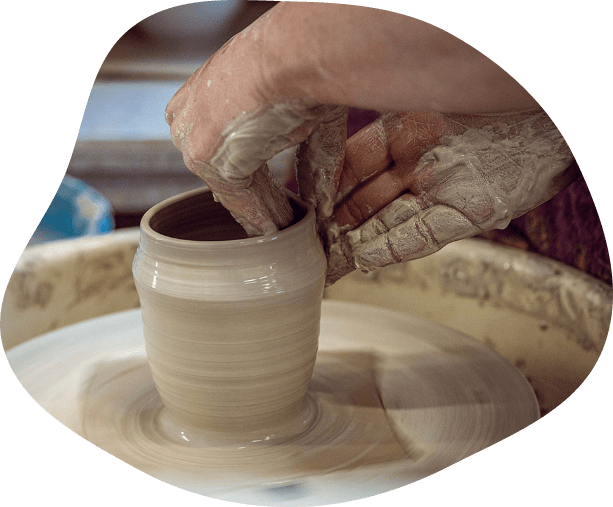 Employment as a rehabilitation process
One of the important foundations of the Hiram rehabilitation is employment.
A wide employment domain was established at Hiram, which begins with building basic work skills and ends with working in conditions that very closely resemble a real work environment.
At Hiram it is understood that to create significant employment rehabilitation the work must be meaningful. We obtain this by creating quality goods with a real need.
Workshops
two workshops, the larger of which is in Harduf and is focused on ceramics of all types – pottery wheels, surfaces, casting, porcelain, and more.
A small workshop is in Tiv'on and is focused on printing on paper and textile and on sewing. All products made in the workshops are of highest quality and are sold in our Alma shops in Harduf and Tiv'on.
Kitchen
an institutional kitchen that is fully equipped, in which Hiram members prepare daily meals and provide products for breakfast, dinner and personal consumption to about 70 members.
Professional experience in all kitchen domains – cooking, baking, cleaning, inventory management, and more.
Sde Marpe (Field of Healing) – The House Garden
an organic vegetable garden where Hiram members are a significant part of the workforces in all types of work and during all seasons. Together with the field workers, Hiram members are responsible for all work stages, from planting through picking, packing and shipping the fruits and vegetables to resellers.
Tachanat Ruach (Windmill)
a culture centre at the heart of Kiryat Tiv'on, operating a café and performance centre that hosts the country's top performers. Hiram members manage the centre and work in a variety of positions, including waitressing, kitchen work, event production, marketing, sound, stage, and more.